Comp Bamboo
The Comp is a "Race Oriented" design for those that want to go fast and straight. The "Displacement Hull" with a negative nose angle cuts through choppy water with ease.
The MAKO means that it's a Brushed Carbon lay-up weighing only 24lbs, crazy light for a 12'6" board, yet stiff thanks to the Full Carbon Epoxy Sandwich Vacuum Construction (ESVC). We removed the balsa stringer, using a lighter EPS foam core, and reshaped the nose and deck. The Comp is designed for versatility with loads of volume making it an ultimate gliding machine. At 30" wide, the Comp has great stability without compromising any performance. Compete if you desire, go for long tours, or pass your buddies with ease on your local lake.
Package includes: board, bag & 1-piece full carbon paddle.
Specs:
Size: 12'6" x 30" x 6.25"
Construction: Epoxy Sandwich
Total Capacity: Up to 300 lbs
Board Weight: 34 lbs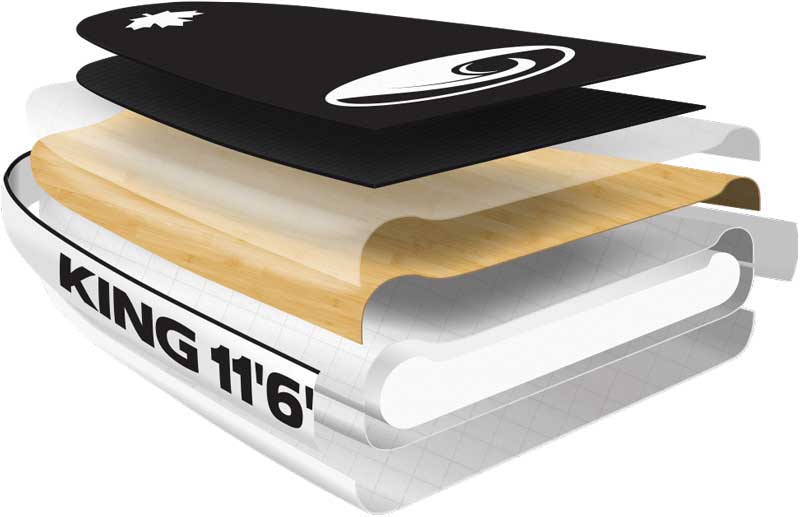 All KAHUNA EPIC SERIES models are hand shaped and use an Epoxy Sandwich Vacuum Construction (ESVC). The foam blank is wrapped with 2 full layers of fiberglass cloth on the top & bottom. A 3rd layer is added to the top of the board and is sandwiched with either fiberglass cloth or bamboo veneer.
For overall strength and durability, the standing zone has an additional top layer of fiberglass cloth wrapping over the deck extending to the underside of the board. The board is then vacuum bagged for perfect consistency producing a strong epoxy sandwich.